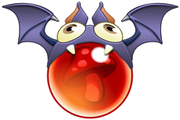 Bat Bubble is a blocker bubble in Bubble Witch 2 Saga. The bat is attached to a bubble and will not let go until it is matched with the right colour. It is first introduced at level 111, the first level of The Mysterious Swamp.
What it does
Edit
The bat attaches itself onto a bubble and does not let go until you match it. If you drop it, it will fly back onto the board.
How to get rid of it
Edit
Match it with the bubble with same color which the bat bubble is holding.
"I never sleep, always vigilant in the dark. When you believe to have bested me, I come right back, stronger than before! I only have a weak point, and it's not my alter ego." - Mysterious Blocker
"Na Na Na Na, Na Na Na Na, Na Na Na Na, Na Na Na Na...ME-EEE!" - Bat Bubble
Ad blocker interference detected!
Wikia is a free-to-use site that makes money from advertising. We have a modified experience for viewers using ad blockers

Wikia is not accessible if you've made further modifications. Remove the custom ad blocker rule(s) and the page will load as expected.