Bubble Witch Saga 2 currently has 1870 levels, all within 95 episodes. All levels have a certain level type. All level types have a different look and shape.
Note: This is a sub-level page, to see the full list of levels visit the List of Levels.
Level types
Edit
In Bubble Witch 2 Saga, there are 4 different types of level:
Bubble Rain
Edit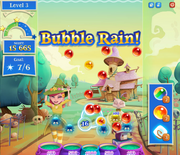 Bubble Rain happens when the player completes the objective of a level. The bubbles are dropped into the cauldrons, and scores additional points.
Ad blocker interference detected!
Wikia is a free-to-use site that makes money from advertising. We have a modified experience for viewers using ad blockers

Wikia is not accessible if you've made further modifications. Remove the custom ad blocker rule(s) and the page will load as expected.